Le Bambole 50th Anniversary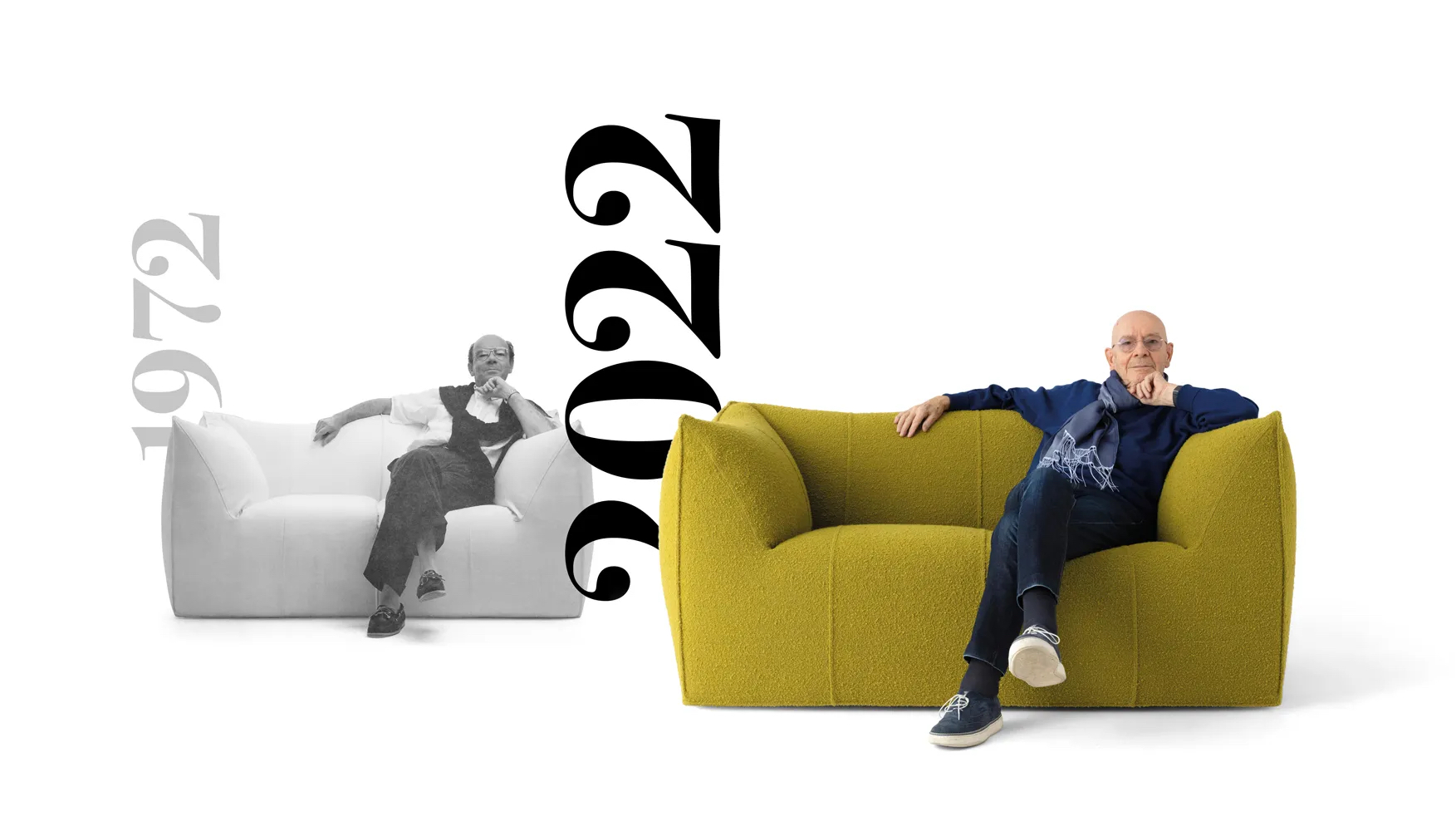 B&B Italia presents Le Bambole by Mario Bellini, in a radically renewed version. Fifty years after their initial creation, these icons of Italian style are evolving thanks to new design choices that make them even more comfortable and increasingly sustainable.

"I feel the pleasure of revisiting this family again, because it confirms to me that it is anything but aged; on the contrary, it is enjoying a thriving and promising second life, a rebirth done in a big way, done with enthusiasm, with breadth, with decorations and with the original flourishes. We have recovered its charm, its sumptuous floridity, its softness". Mario Bellini

A constant presence in the B&B Italia catalogue for 50 years, Le Bambole evolves and becomes even more contemporary. The revamped version recaptures a look and feel more akin to the original, favouring generous, curvy, increasingly feminine shapes.

The new range sees confirmations and new elements, for a collection that restarts from the basic elements: the Bambola armchair, the Bibambola two-seater sofa, the Bamboletto double bed. In addition, the three-seater sofa has been updated to meet today's needs, with a deeper seat that has earned it the name Granbambola.Throughout their history, Le Bambole have seen slight adaptations in shape, proving that they are always able to keep up with the times. In addition to appearance, comfort is a key element of the design. Once again, softness is guaranteed by a series of clever construction measures despite the minimum amount of polyurethane used. Where the original construction was based on a metal structure embedded in polyurethane, now the materials used are of the latest generation. Recycled polyethylene gives structure; elements in polyurethane foam and thermoplastic elastomers are added to shape the geometry and define comfort and breathability, all sheathed by an undercover derived from recycled PET. These design choices mean that every item in the new Le Bambole collection is completely disassembled and therefore easily recyclable.

The renewal of this collection brings with it new coverings. A new sablé fabric (Sila) available in eight colours. Its pleasingly irregular, three-dimensional nature masks the orthogonal effect of warp and weft, amplifying the effect of softness through a studied irregularity that seems reminiscent of natural, spontaneous surfaces. This sensation begins with sight and is completed by touch. In fact, as Mario Bellini says: 'The variation of this fabric, when in contact with your hands, your arms, your body, empathises with your skin and is extremely pleasant'.Another exciting new addition is a dreamy and humorous floral print fabric (Manila) characterised by large roses with a classic feel, an unusual contrast capable of giving each Bambola a totally unexpected outfit. This limited edition fabric is available on a white or black base. Le Bambole can also be upholstered in high-quality leather (Kasia) , an extremely soft and naturally marked full-grain leather. Here, too, touch and sight are equally satisfied, giving each Bambola an even more elegant and refined appearance.